Wallpaper Episode 24 (Farrow and Ball Spring 2019)
If your looking to make a bold statement and feeling brave choose a dominant print . If you are concerned about a large print looking too much or being over-powering you can break it up using molding or a chair rail.
I often get clients looking at paint options for their powder room and I always steer them in the direction wallpaper as an option to transform this space and gain a little incremental confidence with wall paper. It can be a dramatic way to give your powder room a punch.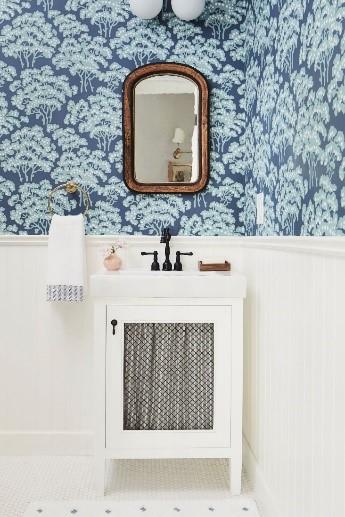 The Hornbeam print is inspired by Farrow and Ball's Dorset (England) roots and time spent in the nearby Isle of Purbeck. Hornbeam celebrates hedgerows that are characteristic of the British countryside. What is great about Farrow and Ball wallpaper is that's its stain resistant and wipeable, so its perfect for any powder room and would also look incredible in a laundry room.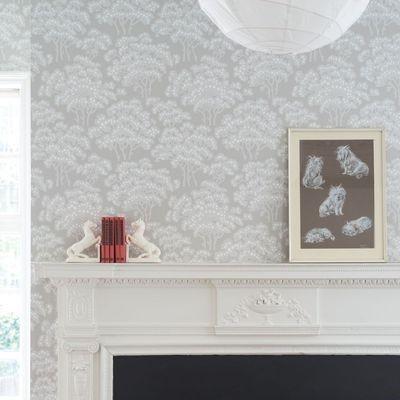 The Bumble Wallpaper is a personal favorite. What I enjoy about Farrow & ball are the stories behind every wallpaper print and paint name. For instance, the Bumble Bee was originally found in Josephine Bonaparte's bed chamber as a silk fabric. Featuring an enchanted myriad of a bumble bee and sprinkled with a cheeky polka dots, that is a hypnotic design that inspires a beguiling sense of childish innocence and playfulness. This wallpaper is great for all ages and is certainly very eye-catching. It certainly gets a lot of love when I show clients in the studio and I have a personal love of this depiction as the bumble bee was adopted as the symbol of Manchester (England).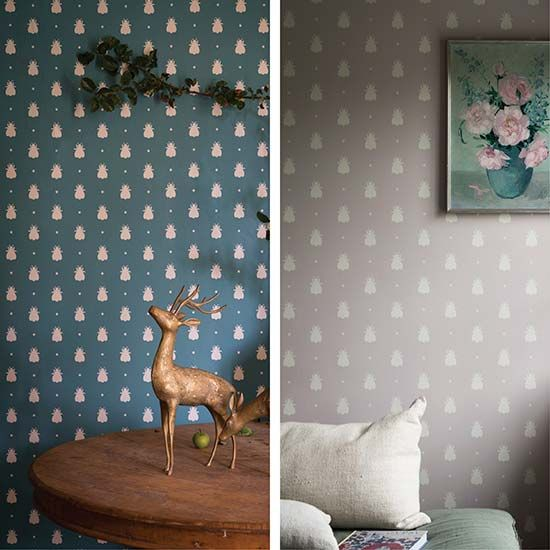 The Gable looks so fresh in this Powder room and this wallpaper comes in a great selection of colors. I personally love the soft blue tone which is shown here perfectly paired with Wimborne White No.239 paint (also supplied in our Studio). This Wallpaper is a charming rural scene of ploughed fields, picket fences and farmyard animals. Gable perfectly captures the youthful innocence of simpler times.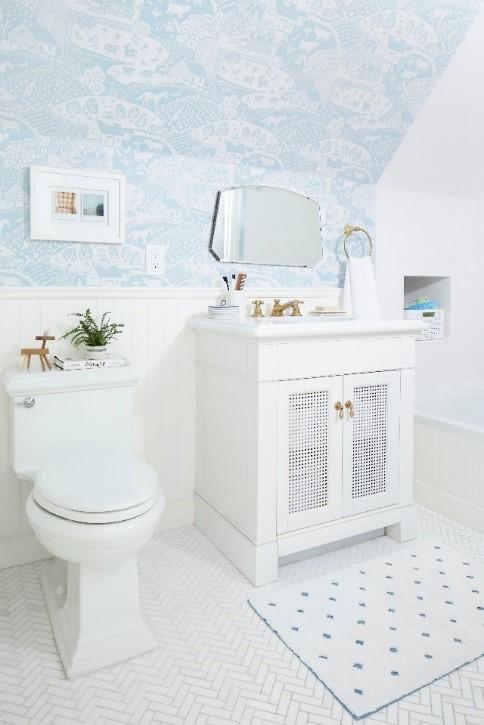 For 2019 I decorated our Studio walls with the 'lotus-flower design'. I love this pattern so much I adopted one shade of this print on the walls and a much lighter shade on the ceiling. Yes – that's right I said ceiling. And if you are not sure how wallpaper looks when applied to the ceiling then drop by the studio and see for yourself. The Lotus is drawn from the 19th century French archives. Lotus is a vivacious and spirited wallpaper, with an abundant, dramatic motif. Its bold radiance is undeniably enticing and makes for a mesmerizing design.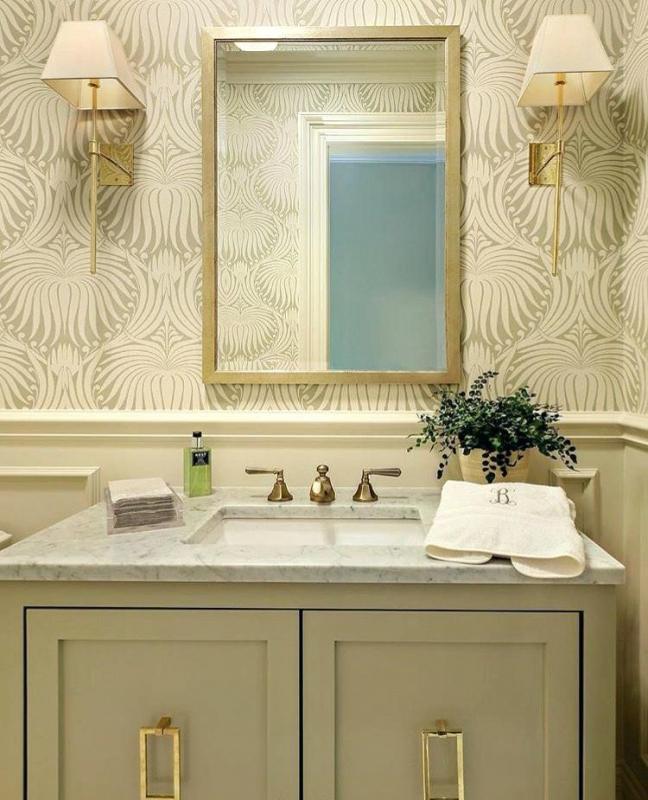 The Ocelot wallpaper is a pattern for fashionistas. I worked with Beciga, a ladies fashion retailer in Sparta NJ who handpicked Farrow and Ball as it fits perfectly with the owners style and impeccable taste within her fashion boutique. The Ocelot is a fabulous leopard print that transcends changing fashions. Fun and quirky, Ocelot is a modern classic. There's no doubt such a timeless and tantalizing design would bring character to any room. I will be creating regular wallpaper and fabric blogs around common themes and designs. Register for our news letter to stay up to date on trend.
Nicola Jane xx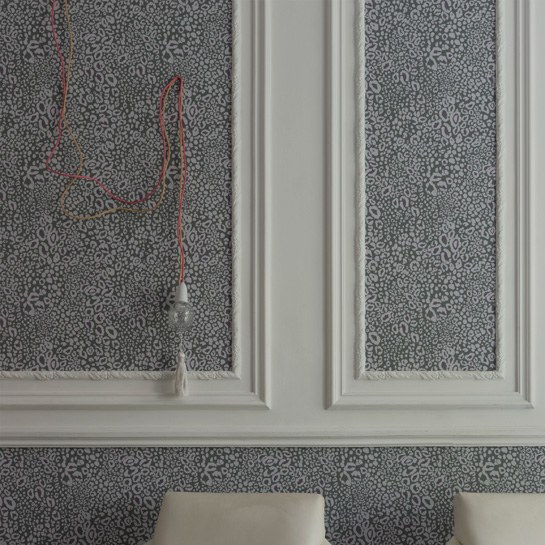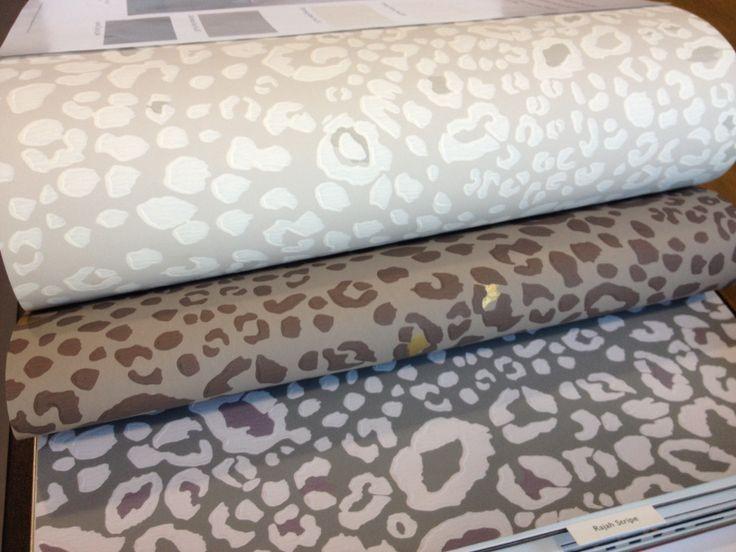 All Farrow & Ball Wallpaper is available at Nicola Jane Interiors Located At The Shoppes at Lafayette, 75 RT 15 Lafayette, New Jersey 07848
Contact Number 201-805-2069