Thibaut Wallpaper and Fabric Patterns on Patterns
Available at Nicola Jane Interiors at The Shoppes at Lafayette, New Jersey
You know I'm a lover of Fabric's and Wallpaper. For me matching patterns is so much fun but may seem a little daunting. There are a few simple rules you can follow to achieve that magazine look.
Rule 1: Start with a color. If you have a multicolored pattern that you have fallen in love with pull one of the colors from your selected pattern. Patterns can bring elements of interest to a design. It offers a possibility for creating a space that will suit a client's personality and visually can make the room look interesting, sophisticated and chic.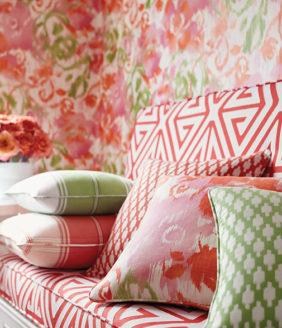 Rule 2: You've probably heard of the "rule of three" or using odd numbers when pulling creative elements together… Whether it be colors, plants, ornaments etc. I typically keep my designs to 3's and 5's to avoid over complicating themes with patterns. In the example below the designer has selected a bold sunburst geometric which could intimidate your typical home-owner but you can see it works effortlessly by sticking to the rule of 3 [red, white and blue]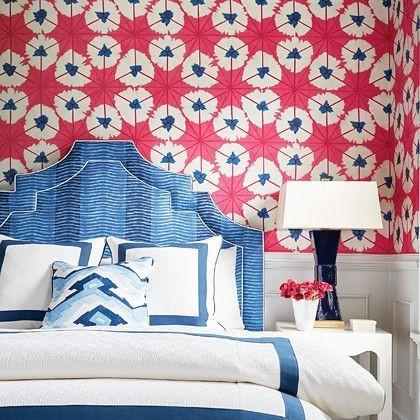 Thibaut Sunburst Wallpaper, Headboard in Wavelet, Pillows in Deco Mountain, Sharm and pillows in Bounty Matelasse and trim Pierpoint from Kaleidoscope.
Rule 3: Start with your oversized or strongest statement pattern and then work down like a scale. The strongest pattern in the below image is the geometric drapes. The next scale down is the smaller pattern pulled from the animal print chair, but which is harmonious in color to the drapes. This consistency removes any chaos from the design. Finally, I like to use a solid in the same color palette which ties everything together.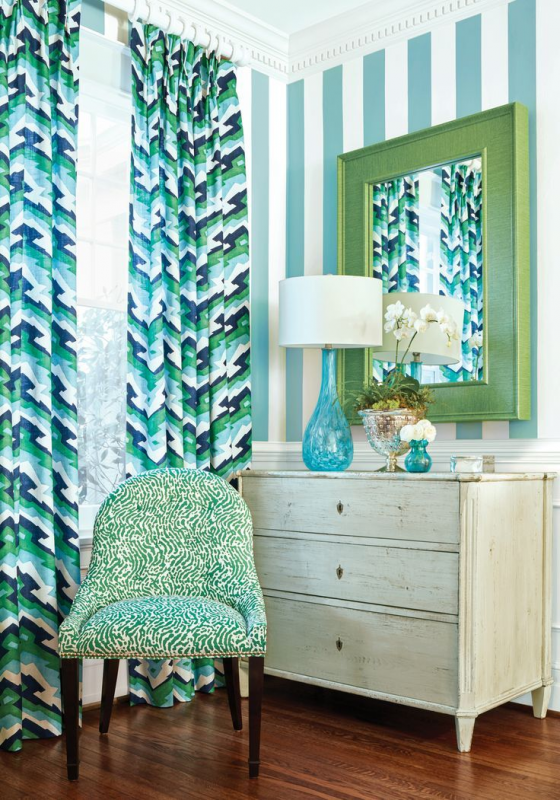 Here are some more examples effortlessly combining Thibaut Fabrics and Wallpaper.
Thank you for reading and Happy Spring!
Nicola Jane