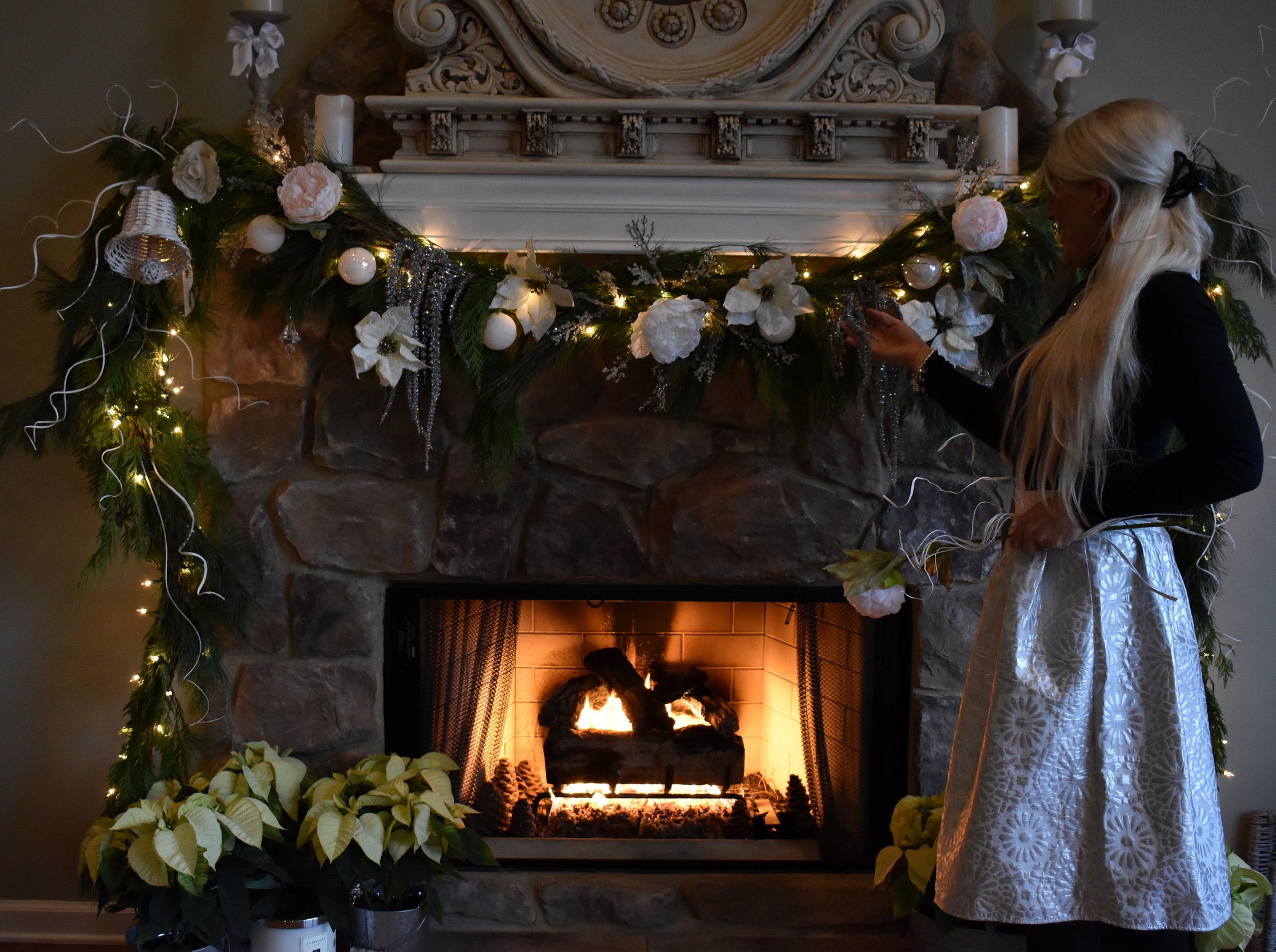 It's beginning to look a lot like Christmas…..
With Thanksgiving in the rear view mirror it is time to turn my attention to the next Christmas Inspiration Series. The Fireplace is often the center piece of any living room but if you don't have a Fire Place then this garland will work equally well around an interior doorway.
And we can't escape the fact that the fireplace, as we all know, is Santa's magical doorway to your home and the hearth is a fitting pick up point for some much needed sustenance on his long journey. It wouldn't be proper or fitting not to decorate it appropriately.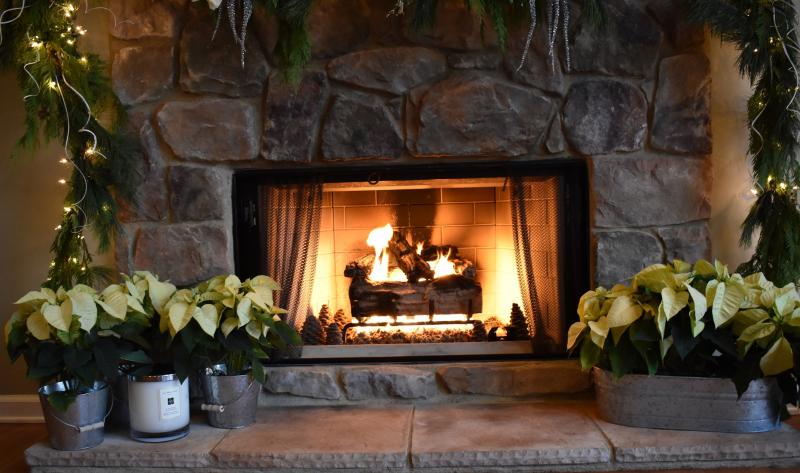 My fireplace is faux stone double height to a vaulted ceiling which in time I will replace by stacked stone. I was actually given the over-sized mantle clock by a friend. I have to be honest it wasn't a beautiful piece but I'm never one to turn down a challenge or the opportunity to upcycle free stuff with a lick of Farrow and Ball old white paint and Annie Sloane dark wax, for that aged look and it now makes for a great addition for such a tall Chimney Breast. And what Christmas Eve Mantle would be complete without a clock so all good little girls and boys know that it is time to go to bed extra early….
For the keen eyed reader you will notice my beloved 'white theme' from my Christmas Table Piece Blog. I have seen 'color' and 'multi-color' Christmas themes done very well. Lets be honest – kids find the multi-colored light shows and giant inflatable Christmas Character shows entrancing.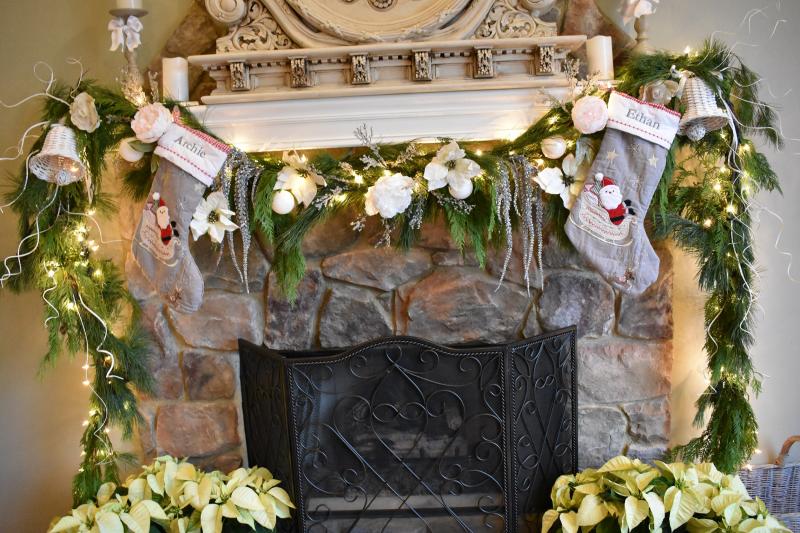 But for me – its soft white all the way! As you know I typically use artificial, pre-lit garlands but on a recent trip to Costco I picked up this 25ft fresh cut garland for $17 and I couldn't resist. I will say that it is a little sparse but if you double up, as I have here, it works wonderfully. Besides – the smell of freshly cut fir is giving my house a Christmas feel already and my 4 trees are still 2 weeks away!
If you are in to your color – I highly recommend the red poinsettia in Costco as well. They are inexpensive and huge – but they wouldn't fit in with my all white scheme so I picked these ones up at ShopRite! I know – who would have guessed? Poinsettia are another plant, along with the Christmas tree, that you really only see once a year. If you haven't had them before I strongly suggest a few. They were 3 for $12 which isn't bad but they are much smaller than the red ones from Costco. I grouped them in galvanized pots and used them to balance the hearth. I love these galvanized pots and tubs. You can pick these up from most craft stores, but I got these from Walmart. The bucket style are $2 and the tub $7 and the good thing is you will reuse these for every holiday in every season. They have so many uses so a great purchase. Mix and match a few different styles and shapes to offer some interest. What fireplace is not complete without an extra large Jo Malone Candle, one of my favorite fragrance Basil and Lime.They look great but are a little to close to 'ground level' for my inquisitive 2 year old.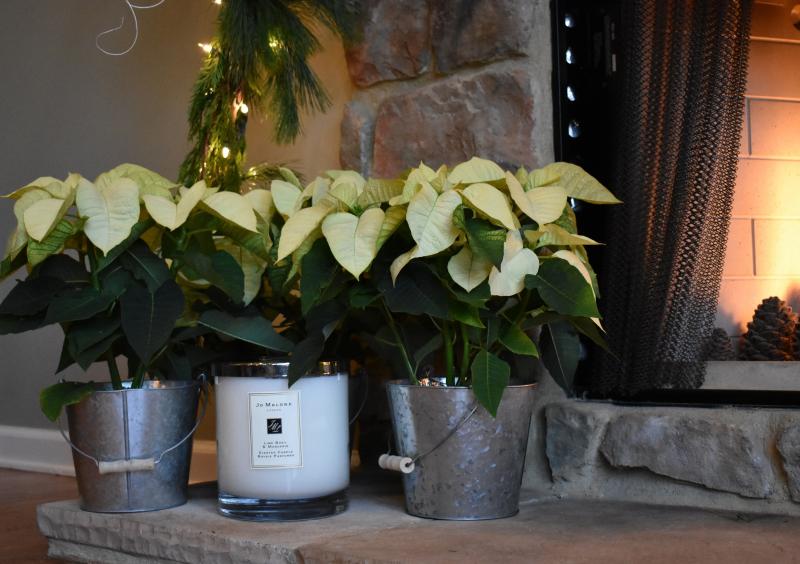 On to the garland – decorated with a mixture of white peonies and roses from 'Michaels' but you can probably get these in any craft store. Recall my top trick from previous posts and pick these things up in the sales and store them for the right occasion. I like my house to sing 'New York 5th Ave' and 'expensive department store Christmas display' but you don't have to spend big to get the look!
Anything wicker works well on a Christmas display. I brought these two white wicker bells with me from England but you can pick them up at craft stores, good garden centers or online.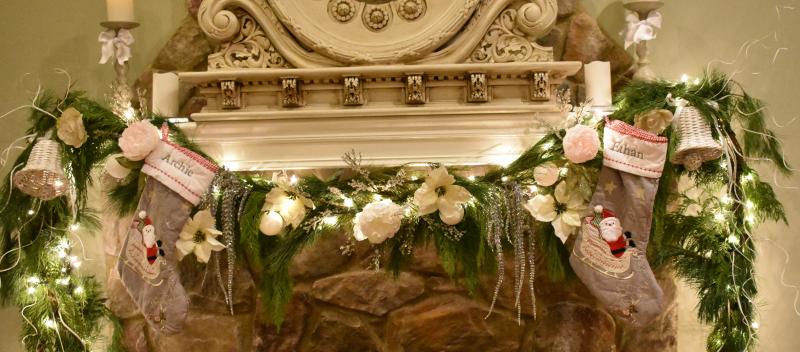 Are you ready for another top trick to give your decoration some glam?
Over the past few years we have been slowly updating our lights fixture in our home with a number of Chandeliers. They always come with spare Chain link and Crystals which I keep and then reuse. Throw a few soft white twinkling lights off the cut Crystals and the reflection casts a snow scene all over your room!
The rest is really a matter of choice. I mix a few inexpensive baubles with one or two more expensive ones. Finish off with candle sticks, some Christmas scented candles and a personalized pottery barn stocking for each child. The decorations are attached using garden wire which is my secret weapon. I don't hassle with cotton or string or even the metal attachments that come with most decorations. I don't even worry about saving the garden wire as it is so cheap I buy a new roll each year which saves on additional time to pack away in the New Year!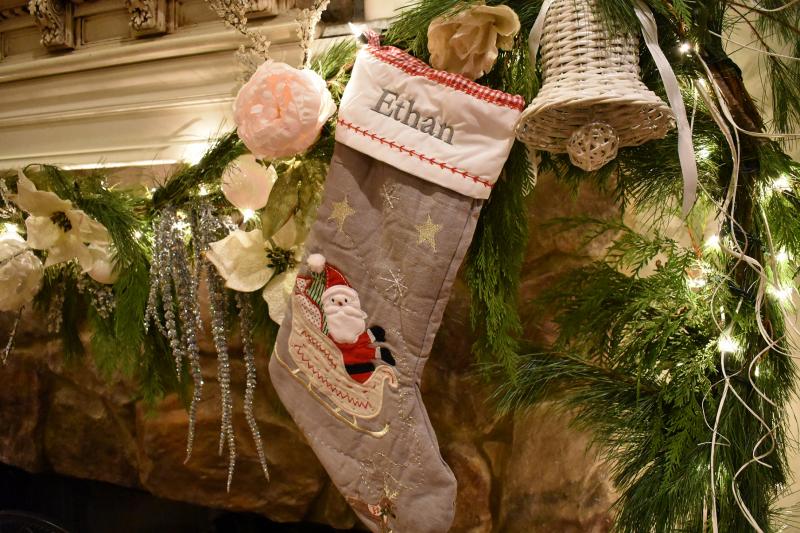 There you have it until the next installment in my Christmas Inspiration Series later this week…. Happy Holidays for now…
Nicola
xxxx