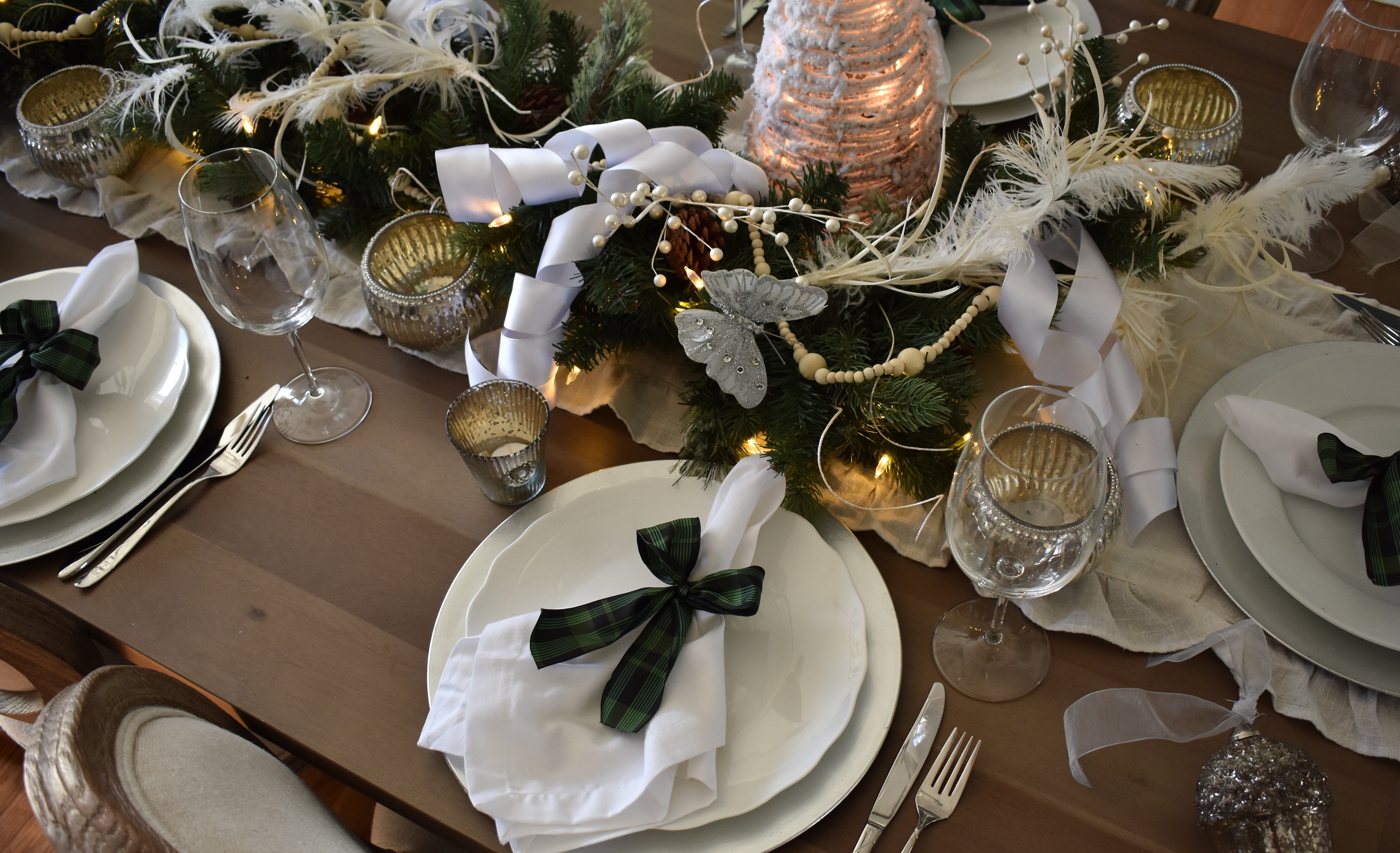 Christmas Table Blog.
Being a creative soul I can really allow my creativity to run wild. I have always loved Christmas. When we moved to America I took it to the next level. My husband jokes that I should have starred in the original Home Alone movie and now we live outside of New York – I kinda feel like I do. I love the Ice Skating in Central Park, the shop windows on 5th Ave, the German Market in Bryant Square. And no Christmas Trip to the City would be complete without a stop at the Church and then a day time tipple in an Irish Bar.
On the home front though it is all about family –Of course my 2 adorable boys but also hosting my family from England which has become somewhat of a Christmas tradition over the last 5 years. They all fly into various airports – and couple that with Christmas Shop/work traffic, it just adds to the pre-Christmas Stress and Tension. But it is the one time of year the family all come together. If I had a bigger house I would host all of my family from back in Manchester!
My family humor me – all wearing, without question, matching tartan pajamas for Christmas Eve and then ridiculous Christmas jumpers for my brothers, husband and 2 sons for Christmas day!
The house decorating starts after Thanksgiving. I have at least two trees – real of course. Christmas just wouldn't be the same without the smell of Norwegian fir. The place looks like a winter wonderland by the time family arrive with every stairway and door frame covered in garlands with matching fairy lights twinkling away.
So in slightly premature anticipation I thought I would talk you through how I set up my dining table. Aside from the tree and the mantel decoration, all of which I will blog nearer the time, the table for me is an important décor consideration. It is, after all, the one place after the craziness of Christmas morning and the year apart from loves ones, where we gather for good food and to catch up. And you have to set the scene for what is the biggest cooking and eating event of the year in my household. Anyway – I'm kinda getting excited just talking about it even if my family do think I'm a little mad. I can't blame them – I still have fall decorations and adorning pumpkins in the kitchen and several Halloween Skeletons hanging from my front porch so it was going to raise an eyebrow when they see me decorating the Table for Christmas in early November!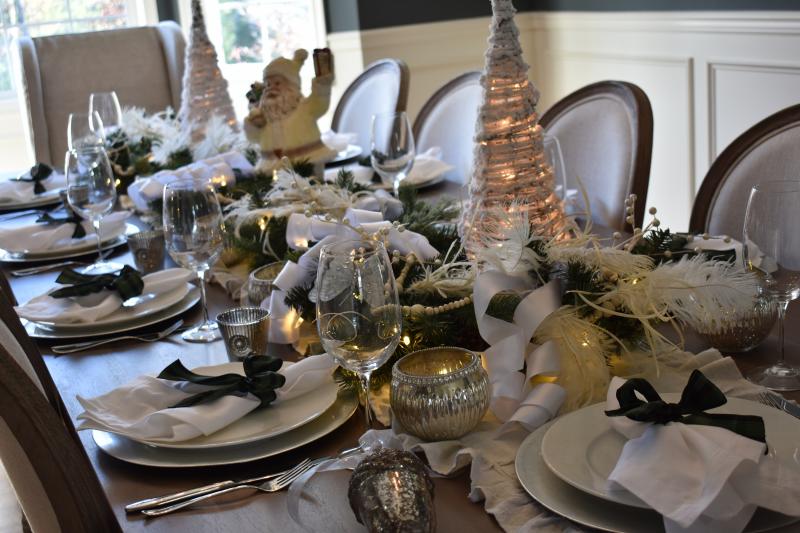 On to the main event. Every design element requires a base or foundation. This for me is the table runner. I typically go for something quite simple and elegant. Sometimes this can get lost underneath all the foliage and sparkles but it looks so elegant having a little frill to give the eyes more to look at. Plus it is functional and catches any drips of gravy so I can clean quickly and join the family for post dinner drinks!
The Garland provides that greenery that definitely shouts Christmas. You can find these all over the places but I typically look for pre-lit ones – Soft white to carry the theme throughout the house. This particular one is a Kirklands/Costco one although I have used many different brands over the years. In addition to being pre-lit it is good quality, very full with different pine foliage and cones. It's a great price and the soft white fairy lights just makes an astounding centerpiece and is pretty reasonable value. I must have about 7 of these.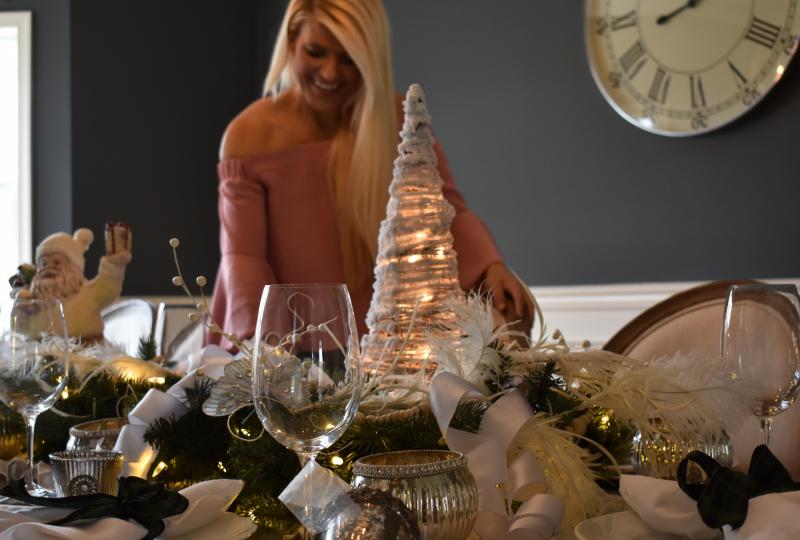 Now you can get creative. My advice is to pick a consistent theme and color. My base color is always, always soft white. Even in the other rooms the base is always white but I may add another contrasting color like Black or some texture using burlap. I love how the white accessories complements the color of my dining room which and works so elegantly against the Farrow and Ball wall color (downpipe no 26)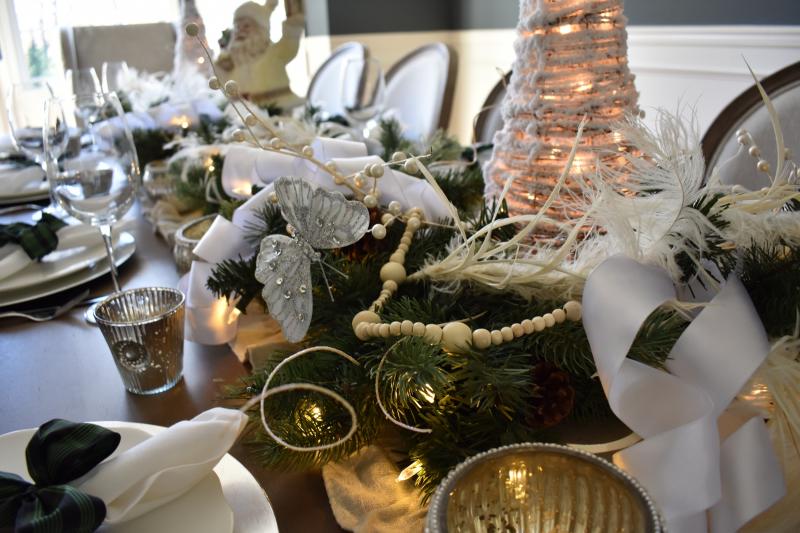 For the table I keep it simple. The jolly ole' Santa takes center stage. He is framed by two pre-lit wicker cone trees that I picked up from Kirklands for $10. The wooden beads that weave the full length of the table are from Target, the Joanna Gaines collection. I love using feathers for added texture and depth. I got these from Joann's for $7 each. Here is my number one top tip for those who want cheap decorations that add that touch of class – ribbon! It is super inexpensive and you can tie bows with it, curl it or, as I did in this image, use a contrasting color like the blue Scottish tartan ribbon for napkin rings on the plate from Target Hearth & Hand collection. Candles are another must for Christmas. You will notice I don't have any candelabras. I like to keep the 'glow' of the flame but keep the table decoration low so the family can talk, interact and enjoy their dinner catching up on stories over from the past year. Instead I use little tea lights. You can get those anywhere but Ikea sells them in bulk. I am classic for forgetting to blow them out so I have substituted all natural flames for battery operated which also have the added advantage of being on a timer. To add a touch of 'frosty festivity' to the table I use glass – in this case glass acorns. I love these ones as they give the table a touch of style and sophistication. I bought these from a local store called Charmed.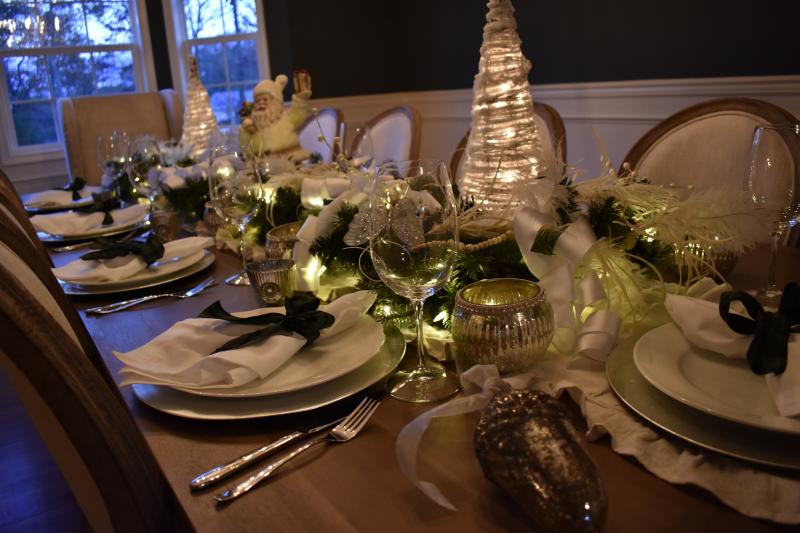 One last top tip from me and that's place settings and if you want to get particularly creative and add a little 'Christmas board game fun' why not buy some spare scrabble pieces and spell out the names of loved ones by their place.
And here is the key – you don't have to spend a fortune to get a look that wouldn't look out of place in a restaurant. You can mix and match, use some cheaper decorations with one or two pricier pieces to. I recently visited Target to take a look at Joanna Gaines new collection and there are some really nice pieces 'for not a lot of money'.
But don't stress out about it. Keep it simple. The purpose of all of this is to create a few magical memories with family members you may not see very often or with kids who are all too soon grown and gone. The table is a place to gather, laugh and build memories – those very same memories we all have from when we were kids.
I hope that this has given you a little inspiration but if you need a little more – put on a Christmas album and pour a glass of your go to tipple. My 'go to' is Michael Buble Christmas album and a glass of mulled wine.
Premature Happy Christmas to you and your families
Nicola xx